Contact Info
Mesa Verde National Park, CO 81330
Listing Details
Mesa Verde National Park, CO 81330
Category
Welcome to Mesa Verde
This wild landscape of deep canyons and expansive vistas is home to over a thousand species, including several that live nowhere else on earth. For over 700 years, the Ancestral Pueblo people built thriving communities on the mesas and in the cliffs of Mesa Verde. Today, the park protects the rich cultural heritage of 26 tribes and offers visitors a spectacular window into the past.
Things To Do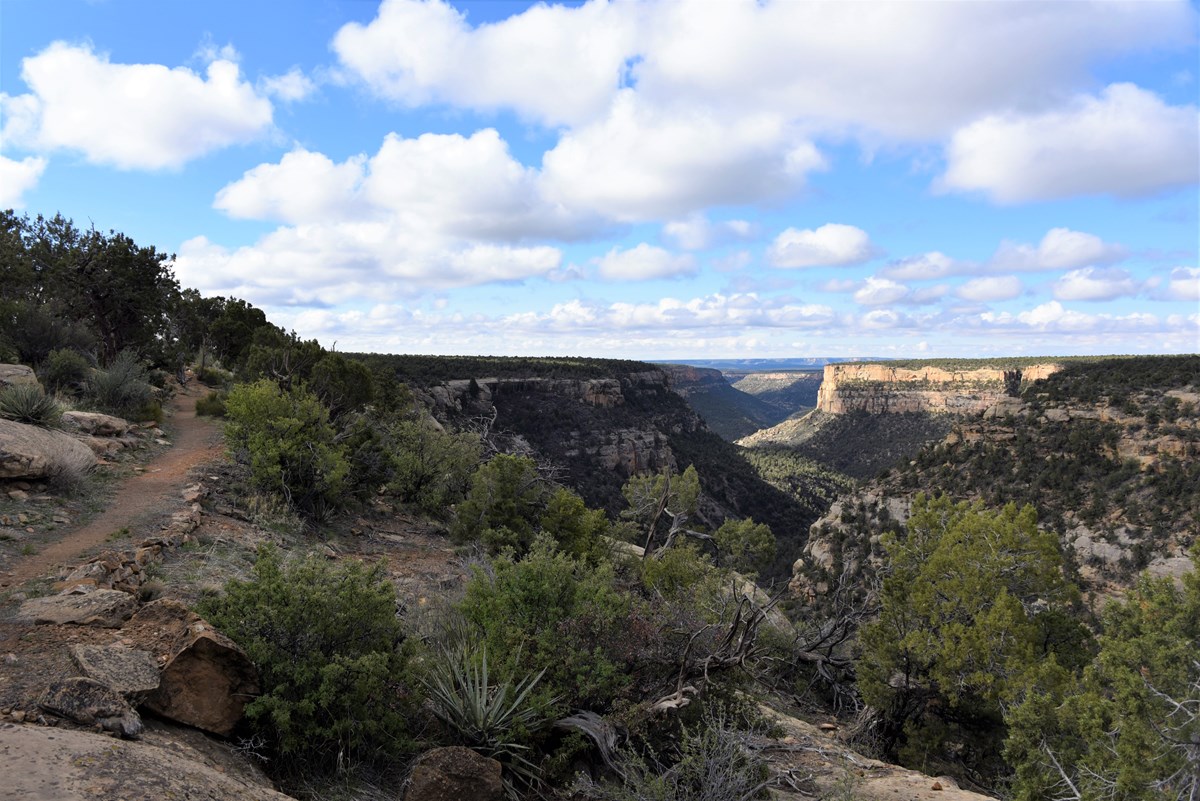 Use this page to discover things to do and places to explore at Mesa Verde.
Explore Mesa Verde (Self-Guided)
Park Point: A short walk to the highest point in the park, at 8,572 feet (2,612 m), and spectacular views across the Four Corners Region.
Spruce Tree House: Overlooks offer views of the park's best-preserved cliff dwelling.
Far View Sites: An easy ¾-mile (1.2 km) walk through pinyon-juniper forest connects a community of mesa-top farming villages and an ancient reservoir. Parking limited to vehicles under 25 feet (7.5 m).
Cliff Palace Loop Road: A 6-mile (10 km) drive with overlooks of cliff dwellings and access to the Soda Canyon Overlook Trail. Closed for road construction.
Mesa Top Loop Road: A 6-mile (10 km) driving tour through 700 years of Ancestral Pueblo history including excavated mesa-top villages and overlooks of cliff dwellings. An audio tour, presented by Ranger TJ Atsye (Laguna Pueblo) is available as a podcast and as a download.
Cliff Palace: The largest cliff dwelling in North America can be viewed from the Cliff Palace Overlook on the Cliff Palace Loop and from Sun Temple on the Mesa Top Loop.
Wetherill Mesa (May to October)
Step House: A 1-mile (1.6 km) paved trail into a cliff dwelling. No tour ticket required. Check Hours of Operation.
Long House Loop: Hike or bike this 6-mile (10 km) paved trail to see the Badger House Community, Long House Overlook, and Kodak House Overlook.
Badger House Community: A 2.25-mile (3.6 km) paved and gravel trail connects four excavated mesa top villages.
Nordenskiöld Site #16 Trail: A 2-mile (3.2 km) trail to a cliff dwelling overlook.
Things To Do
Take a Hike: Hike the canyons, ridges, and mesa tops of Mesa Verde to get a closer look at the park's natural wonders.
Become a Junior Ranger: Pick up a booklet at the Visitor & Research Center or entrance station and complete the activities to earn a Junior Ranger badge.
Stargaze: Enjoy Mesa Verde's night sky from Morefield Campground, Far View Lodge, and scenic overlooks along the park road.
Camp Out: Morefield Campground rarely fills up. Check-in at the Campground Store. Sites can be booked at the Campground Store
Attend an Evening Program: Join a ranger to learn more about Mesa Verde at the Morefield Campground Amphitheater. Beginning in June. Check with a ranger for more information.
Explore with the Park App, Podcasts, and Audio Tours: Install the National Park Service App, then download content for Mesa Verde for help exploring the park. Dig deeper into the stories of Mesa Verde with audio tours and podcasts.
Go on a Cliff Dwelling Tour: Tours are offered May 2 to October 23. Tickets are required and are available online 14 days in advance of tour. Tickets must be printed or downloaded before tour. Cell service is very limited inside the park.
You may also want to learn more about:
•Winter Activities
•Bird Watching
•The Four Corners Lecture Series
•Geology
•Observing Wildlife
•Photography